We started using breathable fabrics some twenty years ago, and the "4 layer technology claims" of some of our competitor's suits were first used in the early 90s and continue to this day.
Manufactured to the highest standards using quality Cordura waterproof, windproof outer fabric on the Millennium and Exeat styles and Taslon fabric on the Xtreme- Air suit. Thinsulate thermal insulation is used through the range giving excellent protection from the cold.
Regrettably the manufacturing of the Ozee suit in the UK has now been scaled down to cater for the special order suits and repairs of existing suits. The main production of the stock sizes and colours are now made in the Far East under our strict quality control, we even send abroad the zips and some other components that make our flying suits to keep the quality as high as possible.
The Ozee suits are sent around the world for people who need to be kept warm, dry and comfortable including:
Microlighting
Paramotors
Hang gliding
Paragliding
Gyrocopters
Glider pilots
All types of open cockpit aircraft
Model aircraft pilots
Industrial suits
Made from the same fabrics as the millennium and exeat flying suits the industrial range of suits are used by some of the leading companies in the telecommunication sector for the installation and maintenance of the radio masts. The industrial suits are also supplied to freezer company's blast freezing vegetables at minus 30 degrees.
We stock a wide range of accessories including fleeces, soft shell jackets, gloves, mittens, footwear, head and neck warmers, windsocks and poles.
" We have used your products for at least 20 years, I think may be longer, I have always found the product to be of very g... "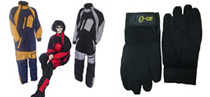 Visit our online shop to see our extensive range of products available to purchase...